An email by a James Samuel Jr. Owner
From: Ed McClurken
To: Pat Atkin
Sent: July 15, 2014
Subject: James Samuel, Jr. Photo

Dear Mrs. Atkin
A few years ago I purchased from you plans for a James Samuel, Jr. The boat is now finished and we love it. It sails delightfully well and, as you can see, handles a group very comfortably. The boat was build exactly as your husband designed it but I did take some liberties with the sail plan. I opted for a spritsail rig so that the rigging fits conveniently inside the boat for trailering and I converted the mast step to a pivot pin arrangement (a la Chapelle's Chesapeake Sharpie Skiff) that allows me to lower the mast on the water in order to duck under the bridges we have on some of the lakes here in northern Wisconsin. I am thrilled with the outcome and the boat never fails to draw a admiration. I had it built by Josh Swan Boatworks in Ashland, WI, and he has some photos of it under construction on his website. He lists it as 18' but that's a typo I keep meaning to bring to his attention. It's actually the 17' 1" as designed.

Please feel free to use the photo I've attached and I'm hoping to take some nicer ones this summer. If you'd like I can send those along as well.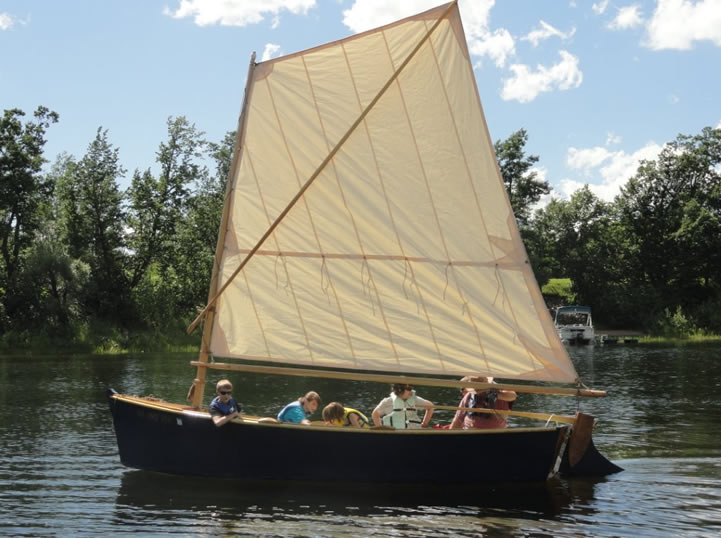 Yours,

Ed McClurken
Other photos of James Samuel Jr.
Plans for James Samuel, Jr. are $100