Silvermine Student Interview: Pat Atkin
by
Ariel Englander
Originally Published in the Fall 2004 issue of Art Beat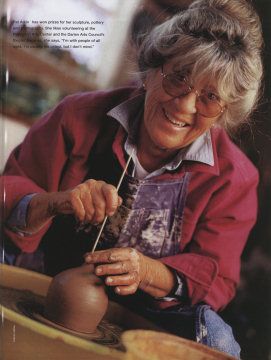 Pat Atkin has won prizes for her sculpture, pottery and photography. She likes volunteering at the Rowayton Art Center and Darien Arts Council's theater because, she says, "I'm with people of all ages." I'm usually the oldest, but I don't mind."
Many Silvermine devotees, whether students, collectors or opening reception regulars, will recognize Pat Atkin. With her trademark bun, worn loosely on the top of her head, and warm, smiling eyes behind oval frames, she is a familiar face at many Silvermine events. Pat has been taking ceramics classes and workshops continuously for the last five years. But this is not her first stint at the school. She was an artist member, as well as a board member, in the 1960's. It was during those heady days that Pat first became charmed with the campus, faculty and quality of the Silvermine art experience.
After a twenty year hiatus from the Silvermine and the making of art, Pat has returned as an avid student. Though she has her own potter's wheel at home, and is a successful ceramicist, she religiously takes classes each term, remaining intrigued and excited by the discovery of a new technique. A recent 1st Place award in Ceramics at the 14th Annual Juried Student Exhibition attests to her success with the art form. A peek in her studio, just behind the small art-filled home she built with her late husband John Atkin, forty years ago, reveals dozens of small, precious ceramic vessels, an extravagant array of delicate colors lining the shelves. Pat explains how a certain glaze may become many different colors after firing. This serendipity is something she enjoys about the process.
Tell me about yourself. Did you go to art school?
No, but eventually, after numerous jobs after junior college, I went back and received my teaching certification in elementary education. I taught art at Tokeneke School in Darien for many years, and the Hillspoint School in Westport when it still existed. I run into former students from time to time and I can always remember them, their parents and talents. I am always surprised that they are adults now with their own children. One of my students became an art instructor herself.
What took you away from the Silvermine Guild and what brought you back?
I used to take workshops in the summer, but after years of teaching, and assisting my husband with his company, and spending six months of the year in Florida, I just wasn't in the right frame of mind for making art. You have to be open to your creativity. After my husband passed away five years ago, I came back. It has given me a whole new life. I'm an older student so it provides a social life for me. People ask me all the time to teach art again, but now I am doing what I want to do. I can be selfish. This is my time!
What advice do you have for someone thinking about taking art classes?
If you want to learn about any kind of art, go to Silvermine. Just stick with it. The faculty is the best. Just look at the quality of the student show. It is fantastic this year. I go to all of the shows around. There's no comparison, and people stay. There is a young woman in my class who works in a hospital in Bridgeport. She rearranged her schedule to leave Fridays free so she could do pottery. She makes up the time on weekends. It's just wonderful.
Do you think you will continue to take classes for a while?
I'll be going to the Silvermine until I can't drive anymore...then I'll get someone to drive me!
Do you like to go to museums or galleries? Have you seen anything recently that you enjoyed?
Oh yes. I go to the Met to see the Greek pottery for the shapes and handles and things, the Egyptian wing for the small bottles, and I love to look at Pre-Columbian art. No matter what exhibition I go there to see, I always go back to those galleries for inspiration. I saw a show there recently on Japanese Oribe ceramics that was just incredible.
So, off the top of your head: How would you describe your work style?
I work small, always on the wheel, working fast, I like instant gratification.
Person who most influences your work?
Kevin Thomas (Ceramics instructor at the Silvermine School)
Favorite exhibition at the Silvermine?
Definitely "Art of the Northeast"
If your work could hang anywhere, where would it be?
The American Craft Museum in New York "Color me... earthtones, muted "dirty" colors, that's what I like.
In addition to her life as an artist and eternal student, Pat continues to run Atkin & Company, well known to the wooden boat trade. The boat design firm, started by John Atkin's father William in 1906, sells over 300 different designs, from the tiniest rowboat to beautiful coastal cruising yachts. The office is filled with photos, models, and drawing tools. Always the avid learner, Pat has mastered the computer and the previously mail order only company now boasts a website and email contact. A large world map on the wall is covered with colored pins placed on the far away countries she has sent blueprints. Surrounded by the original old desks and cabinets that line the walls, she is the caretaker of a legacy that had been willed; designs, furniture, ephemera and all, to the Mystic Seaport Museum.