A Surprise Memory of Power
From: Steven Meacham
To: Pat Atkin
Sent: October 15, 2013
Subject: Surprise Seabright Skiff Photos

Dear Mrs. Atkin
Please find attached some photos of my father's Surprise Seabright.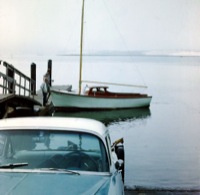 My Dad, who recently passed away, built this boat in the late 50's-early 60's. The boat's home was (is) Morro Bay, California, but it was used all up and down the west coast from Catalina Island to British Columbia, and along the east coast from the Chesapeake to Maine and Canada. It was used on hundreds of inland lakes across the US and Canada.
I have read speculation on line as to whether any of these boats were ever built, and strong assertions made that they could not perform under power as promised.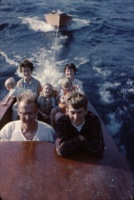 In one of the photos of the boat on Lake Chelan in Washington State the boat is loaded with 10 people (there are a man and two boys in the bow, out of the photo), and as you can see she is going fast enough to throw a rooster tail carrying all these people while towing a 10' dingy. I can personally attest to the boat's speed as I water skied behind it on the same trip and used to surf its wake when I was a teenager (before wake boarding) became popular.)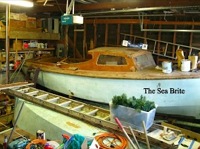 The boat has not been in the water for many years but has been stored in the garage. The family is hoping to find a good home for this boat with someone who can appreciate just how special she is and was to our Dad.
Steven Meacham
Shelton, WA