---
Unpretentious, Husky and Overwhelmingly Practical is this Displacement Cruiser by John Atkin
With lines as doughty as her name, Great Bear represents a type of powerboat often eclipsed by a more numerous fleet of fast and sophisticated cruisers, but definitely worth the consideration of the man who prefers to do his boating at a modest and meditative pace.
Designed as a "retirement boat" for Bill Dunn of Collingswood, New Jersey and built by Clem Troth at Tuckahoe, Great Bear pokes around Barnegat Bay with dignity and economy at a cruising speed of eight knots produced by a 70-hp Barr diesel with 2:1 reduction.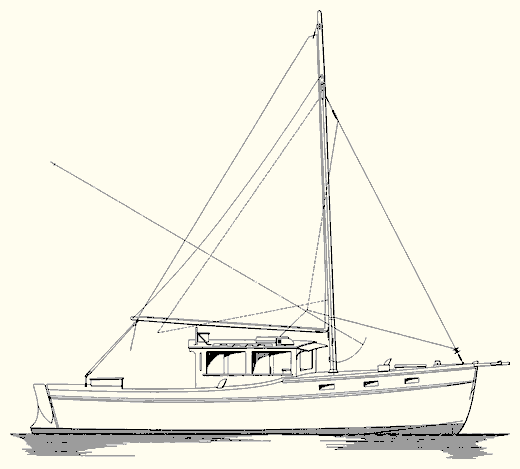 Notice that the deckhouse is fitted vertically. This has nothing to do with stylistic "quaintness." A house of this type is more practical than a "streamlined" one. Visibility is better through a vertical surface, particularly at night. Rain and salt spray are shed faster. Construction is easier, faster and cheaper. The sun visor is more effective. Interior room can be more efficiently utilized. At any rate, has anyone ever investigated the improvement in performance resulting from "streamlining" a boat going ten mph?

Her 36' 81/2" vee-shaped displacement hull accommodates a good deal of comfort in simple quarters for two forward, a high and sunny deckhouse, and a trim two-berth cuddy aft. Shelves and stowage lockers are ample both below and in the deckhouse with its galley, and a comfortable head makes fine use of forepeak space. There's an alcohol stove in the galley and the water system is pressurized.

The hull is a true displacement V bottom type with a small beam-to-length ratio. This is why the boat is so easily driven, so economical to operate. Any resultant tendency to excessive roll is cancelled by the steadying sails. Anyway, in a seagoer some rolling is essential, else the boat will have an uncomfortable "snap" to its motion.
Construction is white cedar planking over stem, keel and frames of white oak with mahogany trim and decking of fiber-glassed plywood. All exterior surfaces are painted for ease of maintenance. Her simple sloop rig for off-the-wind work and steadying contains 315 sq. ft. of sail with roller reefing gear on the jib. Anchoring is managed from the helm with no need to leave the deckhouse.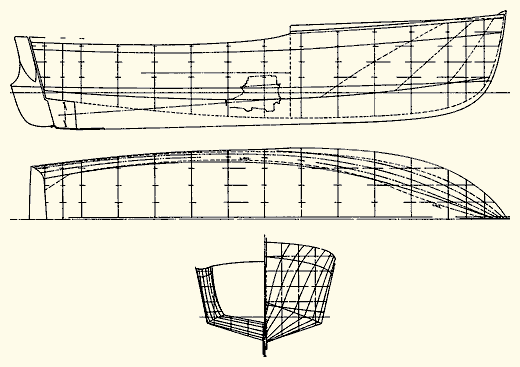 Great Bear is a seaman's vessel, straightforward and practical. Her owner says that she slides along at something better than nine knots. She carries 140 gallons of fuel oil in iron tanks and 60 gallons of fresh water in Monel tanks. Cruising range is 450 miles.