---
A Neat Twenty-Two Foot Day Cruiser Which Will Do the Work of an Open Boat with More Comfort
Here is Revelation. She is a little thing in the matter of dimensions; but big in capacity. Only 22 feet in over all length with a water line length of 21 feet 6 inches, a breadth of 7 feet 6 inches and a draft of 2 feet 1 inch. It may be interesting to note that the headroom in the cabin is 6 feet, and under the standing top 5 feet. And yet she is not abnormally high sided.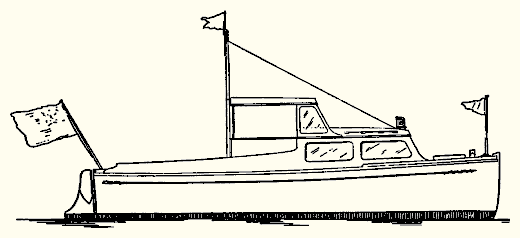 The little bridge deck over the engine is just high enough to clear the top of a Gray Six-60 engine; this being the right size motor for installation in Revelation. The helmsman's seat gives comfort to the man at the wheel. There is a rail around the helmsman's bridge set on wooden stanchions and filled between the rail and the coaming with 3/16 inch plywood. Here under the standing top and windshield there will always be protection; just drop a curtain down each side and what can be more comfortable even in cold and wet weather?
The little cabin will be fitted out with the sofas, thus making a snug and comfortable place in which to seek shelter if it rains. The cockpit floor is laid at a level 10 inches above the water line and is therefore high enough to be self draining.
The lines show a round bilge model having a sharp bilge: aft the bottom flattens out, the buttocks showing a slight reverse curve. This is not extreme, but just enough to prevent settling aft when under way at 17 miles an hour. There is a lot to be said for the round bilge model. Without question it is easier in rough water than the V bottom and is equally as efficient. For equal weight in construction the round bottom type is also the stronger. This because the ribs run in a single piece from sheer to sheer. The difficulty of construction at the chine is avoided, too, and that is a feature appreciated by the professional boat builder.