Bill Colihan asked me to design a pram for the davits on the stern of his 36 foot motor cruiser Ulsworthy. She had to be burdensome, for the Colihans are large people: Bill's son, Alston, is 6 feet 8 inches tall. I used the design of Schatze and pulled her up to 9 feet overall by 7 feet 1 3/8 inches on her waterline by 3 feet 10 1/2 inches beam and 3 inches draft. She is built of 1/4 inch waterproof plywood and has 43 square feet of sail area in a sprit rig.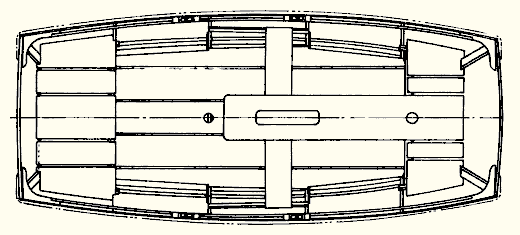 Plans for Finkel Dink are $100
We apologize for the inconvinience, but we are no longer accepting orders at this time. The ordering process is in transition.