---
In these days of scarce and difficult-to-find houses and rooms such a craft as shown here would fill a very real need. Everything with a roof, and the latter not always water tight, is filled to overcrowding wherever war-work is being produced. After a long, throbbing day surrounded by noise a little boat like Retreat edged by sedge grass and water would be the ultimate indeed.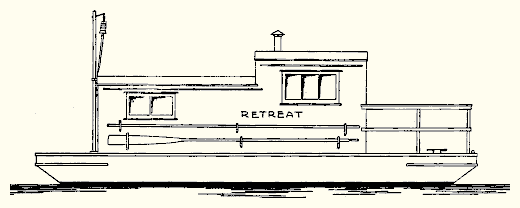 I am sure you will find, if you plan to build, that all the materials going into this miniature floating castle are of kinds that are not under priorities. And you will find if you will study and compare this boat with others of its type that the construction is very much on the light weight side. The purpose of the latter is to ease the burden if and when the boat has to be moved overland by truck or trailer. Fact is it would be no trick at all to fix a pair of automobile wheels each side at the middle point of the over-all length, making a trailer that at the same time would be a house boat. Axle would not be required, nor springs. Two front knuckles from a heavy car welded to suitable plates could be through bolted to the sides; then removed after the trailer had been wheeled down into the water. With approved hitch to attach to rear of automobile, and driving at modest speed the whole would function very well. This is worth thinking about. The total weight of the boat without personal items will be approximately 1,900 pounds.
The over-all length of the hull is 18 feet; the breadth is 7 feet; the depth from bottom to deck is 2 feet. The sides are flat and stand plumb: just like a long box having slanting ends. With everything aboard the hull will draw close to 5 inches of water.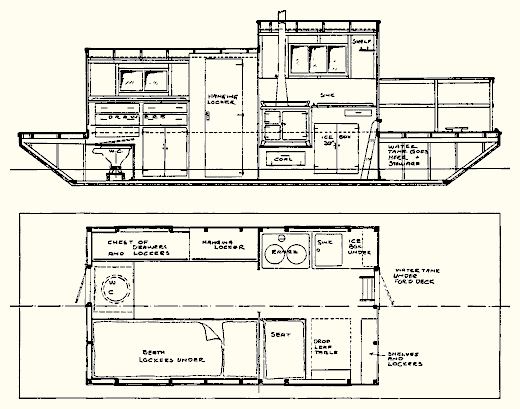 The deck plan shows bow deck 4 feet 6 inches long and deck house 11 feet long. The bow deck has suitable wooden railing; the after deck will he open. The deck house has two heights; the main cabin high enough to get full 6 feet headroom under the top beams; the sleeping cabin lower. To get 4 feet 10 inches headroom. If the deck houses are much higher than this there will be too much windage. Retreat will be very cozy inside as designed. There is a narrow deck all around, just enough for a toe hold; that is why the grab rails shown will be necessary. There is a window each side for the sleeping cabin and the main cabin. These will open out and be hinged at the tops. Each side of the deck house I would carry a long oak oar and a long pole, all four being very handy for obvious reasons. And, of course, you will require a pedestal on which to carry a riding light if you moor among moving watercraft.
There is an entrance each end. The forward, or main cabin, is fitted with a coal burning yacht's range, sink, and ice box one side; comfortable upholstered seat, drop leaf table, shelves and lockers the other side. There will be an additional shelf over the sink and ample room under the forward deck for stowage as well as room for a good sized water tank. The sleeping cabin is fitted with single berth; chest of drawers; lockers; hanging locker; and W. C. located beneath the seat which forms a step at the after entrance. And there we have the cabin of our shanty boat deluxe.