---
A 14-Foot Flat-Bottomed Racing Skiff
Willy Winship is a flat-bottomed racing skiff. Her design is based on the excellent and shipshape sailing "flatties" made famous by the men who hand-raked shellfish on the Jersey coast some 75 years ago (this is written sometime in the 1970's). These boats were smart sailers - able, safe, capable of carrying a good load, and altogether first class.
This is the nature of Wiliy Winship, the boat. Willy Winship, the boy, is a student in the school where my wife teaches art. Like the boat, he is smart, able, and altogether first class - a young man full of vitality and charm.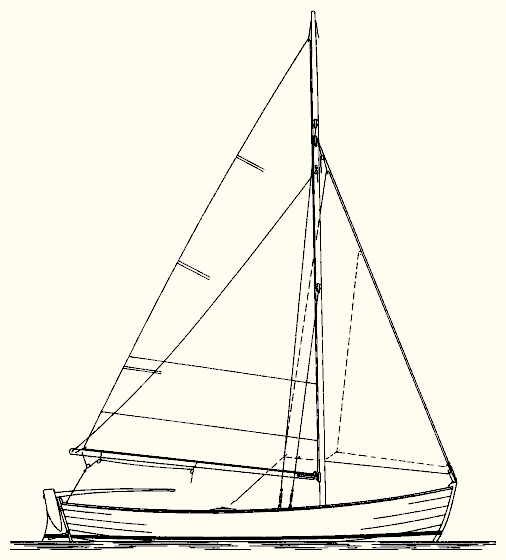 In designing this youngster's namesake, I wanted first to create a superior kind of boat in which to learn and second to produce an ideal one-design for yacht club use. Furthermore, I thought that she should be a boat that would serve well as a comfortable and safe daysailer.
For this, she had to be driven easily by a low-powered outboard motor and transportable by trailer. Further, it was important that she require a minimum of time and expense on the part of the owner.
Willy Winship is all of these things, and best of all, she can be built for a fraction of the cost needed for a first-class round-bilged or V-bottomed boat of equal dimensions. She thus reflects well the philosophy that was my father's and has also been mine these past 35 years.
I am at a loss to understand the wide acceptance of the present-day "skimming dishes" at numerous yacht clubs. Lacking bearing but abounding in hiking straps and trapezes, these craft hardly qualify as "practical training boats for youngsters." How much more sensible would be a fleet of Willy Winships, boats that could show the uninitiated the way of the water - and demonstrate its pitfalls as well. The many advantages of a flat-bottomed skiff include ease of construction with minimum materials. Little wood is wasted in building such a boat, and fastenings may be galvanized or copper boat nails.
A skiff like Willy Winship can be drawn up easily on any reasonably smooth beach and, if grounded, may be gotten off without difficulty or damage. As is the case with most of her type, Willy's interior is easy to clean. The smooth inside of her bottom allows a wooden bailing scoop to be used in quickly freeing the bilge of water. There are no footboards to make or take care of, and interior painting is done easily.

Do not get the notion that flat-bottomed skiffs are inadequate sea boats or that they slap and pound. When such boats are heeled over, the sharp corner formed by the side and bottom acts as an easing V. To be sure, a flat-bottomed hull will slap under adverse conditions, but this is a small compromise in light of the numerous advantages!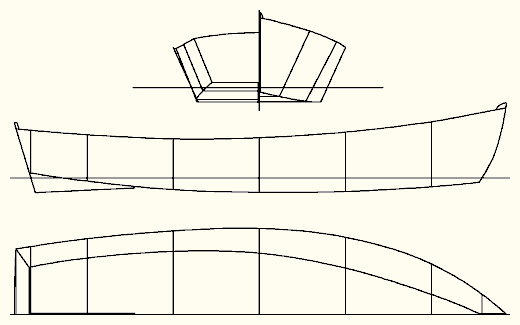 Willy Winship is 13 feet 9 inches overall, by 12 feet 8 inches on the waterline, with 4 feet 10 inches beam and 5 inches draft. Freeboard is 1 foot 11 1⁄2 inches at the bow, 1 foot 11/8 inches at the lowest point of the sheer, and 1 foot 4 1⁄2 inches at the stern. The breadth is carried well for- ward, while the stern is pulled-in somewhat more than usual. The bottom is narrow over its entire length. This produces generous flare in the top- sides and the assurance of a dry hull, for the combination of the flare and the plank laps keeps the spray down. She has a big centerboard, which, unlike a daggerboard, will pivot up in shoal water.
The sail plan shows a total area of 92 square feet with 62.3 square feet in the main and 29.7 square feet in the staysail. The sails are to be made of 3.3-ounce Dacron. There should be three battens in the leech of the mainsail but none in the staysail. If speed and performance are expected, Willy Winship should have the finest sails made, for they will be the key to her power.
Working drawings include a plywood construction section showing %-inch waterproof marine plywood on the topsides and bottom . Bottom frames will extend athwartships.