---
A V-Bottom Seabright Skiff
Sallie Hyde is an exceptionally able and comfortable open motorboat--a small boat which will prove ideal for many purposes: fishing, day cruising or earning a living for some water minded man. For the latter it may be of interest to know that the draft of this latest of the family is only 1 foot 4 inches, carrying the weight of two grown-ups as crew. The over all length of Sallie Hyde is 22 feet 3 inches; the water line length is 20 feet; the extreme breadth, 6 feet 10 inches; and the draft as given above. The freeboard at the bow is 3 feet 6 1/2 inches, the least freeboard, 1 foot 11 inches, and the freeboard at the stern, 2 feet 5 inches. The depth amidships from gunwales to top of keel is 2 feet 11 inches; and so one can see she is a very big little boat. People aboard sit well down in the boat thus assuring a sense of security to the crew, to say nothing of placing the center of gravity of the live load where it should be in any small boat -- low.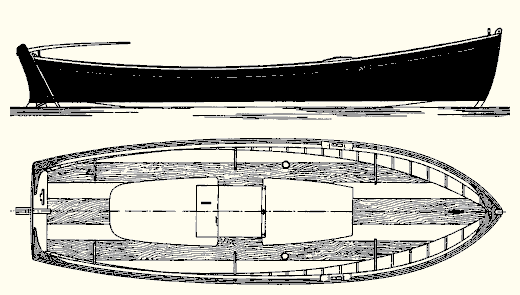 The deck plan shows a truly open boat: no decking, only inwales, edge of sheer strakes and fender mouldings forming the deck edge of the topsides. There is a cockpit both forward and abaft the motor housing, the well deck forming seats and a very comfortable place for sun bathing forward. Gasoline tanks are installed both sides beneath the well deck, motor controls are on the enginehouse and the little packet steers with a handy certain-and-sure tiller. The original plans showed for power a two-cylinder four-cycle medium-speed Palmer marine engine, model H.H.; approximately 12 h.p. at modest turns per minute. However, a Gray Lugger 162 was installed in the first boat. The designed speed with the Palmer engine is 9 miles an hour. The Gray, of course, propels the skiff somewhat faster than this, but develops more power than is required which, after all, has its advantages.
Sallie Hyde has all the worthwhile characteristics of the old fashioned and dependable Sea Bright fishing skiff; the bold sheer line, raking stem and stern, box deadwood, flat bottomed double-ended keel, and outdoor rudder. Two big changes, however, are noticeable; she is of V-bottom model and carvel (smooth)-planked. Since long before the Civil War all the famous Jersey coast skiffs have been of round bilge model and clinker planked. Therefore the design of Sallie Hyde is a development of the old timers.
Sallie Hyde's plans include two sets of lines. One set for low power, the other for anyone wishing speeds up to 16 miles an hour.