---
A Shallow Draft Utility Boat
The plans which grace these pages show an advanced type of extremely shallow-draft boat. These plans are not experimental, but rather a development of many others similar in character to those I have designed during the last 35 years.
The overall length of this new member of the family is 22' 1"; the waterline length, 20' 0"; the breadth, 5' 6"; and the draft the amazing figure of 6"! Little enough to suit the fancy and need of folks that do their boating on shallow waters. The freeboard at the bow is 2' 10"; at the lowest place, 1' 9"; at the stern, 2' 0" which, despite the modest draft, gives ample total depth to the hull -- more than enough to give a comfortable sense of security.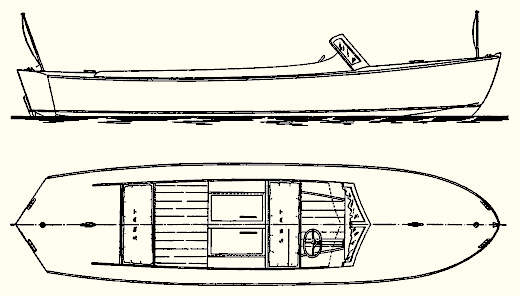 It will be noticed that the protecting shoe beneath the propeller extends from the bottom of the keel to a point about 9" up on the stern. The propeller and rudder are between the shoe and the bottom of the horn timber, and therefore exceptionally well protected whether the boat is going forward or astern. This is an ideal arrangement for keeping clear of underwater lines of all kinds, as well as dinghy painters, dock lines, etc.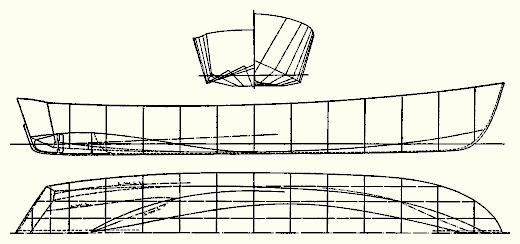 The form of the stern is as old as motorboats are old and was inherited from the design of early torpedo boats, especially those of the French Navy. It is called a Normand stern after its deviser, an admiral of the French navy. It has advantages, not the least of which is its ability to ward off seas running and breaking from astern. Shoals Runner has a straight, flat double-ended keel and above this is a V-bottom boat. The topsides forward have generous flare which, while decreasing as the stern is reached, will keep down spray and make a dry boat. At the corners of the chines from station 8, and to the stern there are anti-trip chines; in other words the sharp angles here are cut from these particular frames. This eases the quick lift of the sharp corners, especially in making quick turns and running off a sea. I have designed several score boats similar in design to Shoals Runner ranging in length from 16' to 45' and in draft from 6" to 15". All have turned out well and have proved satisfactory in every respect.
The motor specified in the plans is a Universal Atomic Four, 22 hp at 3,000 rpm. The speed of Shoals Runner will be close to 17.5 mph. Do not install greater power than this.