Florence Oakland
A Backyard Schooner
by
Mike O'Brien
©Boat Design Quarterly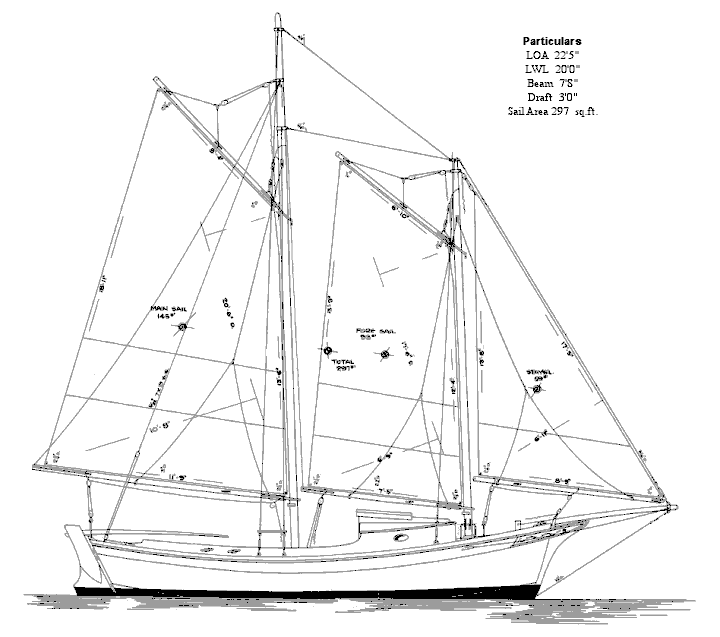 In boat design, as in other creative activities, some of the most memorable work comes about as the result of commission. A client who knows what he wants, or at least thinks he does, has his wishes hammered into reality by a capable professional. In the best instances, the dialogue can prove stimulating and the result inspiring (see Black Skimmer in BDQ No. 1 and Shore Liner in BDQ No. 3).
A long time ago, Jacob Hess wrote to designer John Atkin with his thoughts for a small, trailerable schooner. He included a rough sketch to serve as a starting point for discussions. He also sent a non-negotiable name for the resulting boat. This schooner would sail as the "Florence Oakland" in tribute to the owner's mother-in-law.
With some cause, a schooner rig is not often chosen for boats that measure only 22'5" on deck. But this traditional American coasting rig has some advantages that hold even at small scale: Carrying the largest and heaviest sail aft means that we can hoist it first (from the comfort of a deep and secure cockpit) without having the boat charge around her mooring. It can remain standing in moderate weather while we tend to this and that.
The relatively low and spread-out rig gives us greater control in a variety of conditions, and we'll have several options for reducing sail in a blow. We can drop the foresail and continue under main and staysail, reefed as needed. When the wind comes on really strong, we'll hoist only the reefed foresail. For more about handling schooners, see BDQ No. 22, page 12 and Phil Bolger's 100 Small Boat Rigs.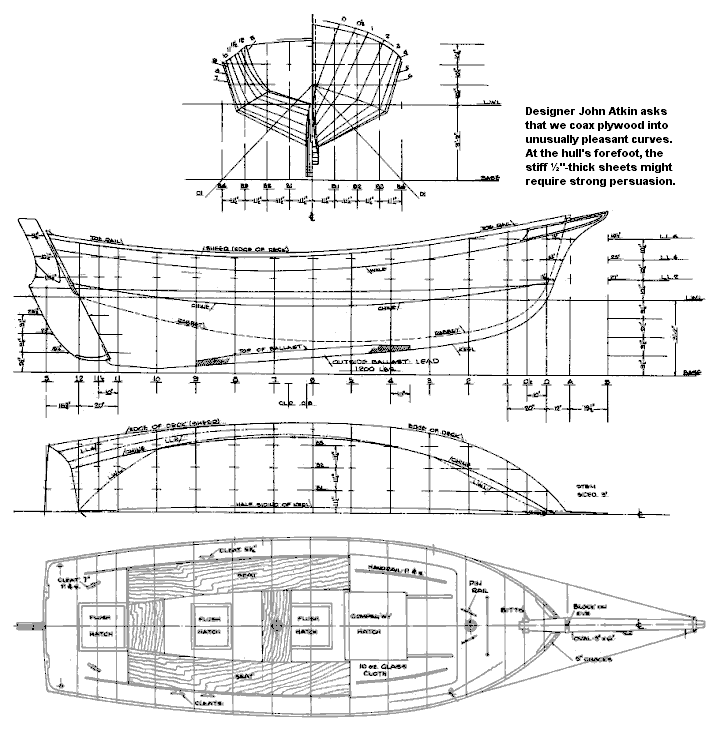 With Hess's charge in hand, Atkin drew the lines for a plywood hull. Neither the designer nor his client cared much for that sheet material, but Florence would have to live on a trailer. In those pre-epoxy days, the options were limited.
Atkin seems to have drawn a developable forefoot to allow sheathing this difficult area with sheets of 1/2" plywood. Still, we'll worry that he does not show the slightly convex sections that might occur there. (See Charles Wittholz's drawings for the catboat Corvus in BDQ No. 5 to understand what happens when we wrap stiff, unforgiving plywood around a similar shape.) If the plywood bulges away from our straight frames, we'll lock the shop doors and spend considerable time shimming and dubbing. In any case, I'm tempted to lay up this portion of the bottom with two layers of 1/4" plywood. That nice curve (flam) in the topsides back aft might benefit from the same treatment.
Florence's keel shows a fair amount of drag. That is, its bottom edge slopes downward as it runs aft. This helps to move the center of lateral resistance (CLR) aft-a desirable feature for a boat that carries its largest sail way back there. All else equal, this drag might increase the effectiveness of a keel as well. Water flowing aft on the lee side seems to stay on that side longer, rather than slipping under the keel and separating and burbling off to cause additional drag and loss of lift.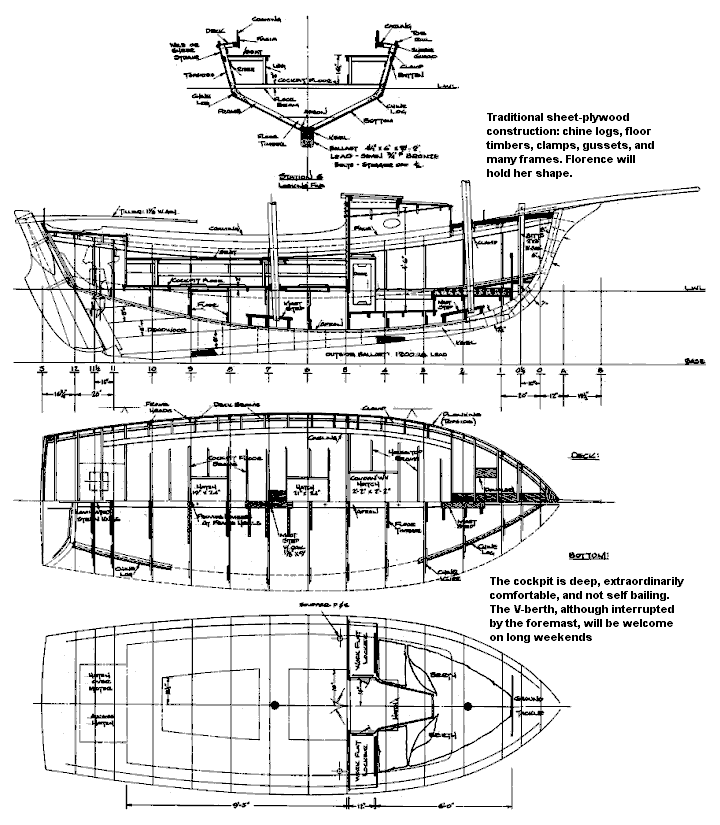 Atkin's striking new design had an immediate and profound effect on many sailors. One of them, 16-year-old Paul Gartside (now a highly regarded designer and builder), made himself a batten-seam version of Florence. He remembers his little schooner as we might our first girlfriend. Through the distance of years her faults seem clear, but it is her appeal that lingers. Paul recalls what he loved about his boat, and what he might change:
I had her sailing during my first year at college. That summer I lived aboard on the west coast of Scotland. Lots of memories there. She's a charming little boat. John really hit the appeal button with this one. I never went anywhere without drawing comment, and I always enjoyed seeing her swinging on the mooring. There is much to be said for achieving that.

She is the best balanced boat I have ever sailed. I still use her lead [with a long 'e' as in 'need'] for the gold standard when drawing schooners: that is, a 10% lead (with the full rudder included in the CLR). You can control her simply by trimming the mainsheet. The rudder sometimes seems redundant.

But she is a compromised design. Shallow draft and the gaff-schooner rig make her slow getting to windward, and she has a tough time in any weight of wind and head sea. Auxiliary power is needed if she is to be a practical cruiser. There's plenty of room in the bilges, and I installed a small inboard engine. [The plans detail a well for an outboard motor.]

Florence was designed for daysailing, with that huge cockpit. It's not self-draining-in fact, it's self-filling in a good gust. Which points up her main problem: lack of stability. John's original drawings show her with an 800-lb cast-iron keel. I added inside ballast to help her stand up to her rig, and John later specified a 1,200-lb lead keel [plus 300 lbs of inside ballast]. I'd be tempted to add more outside ballast, and perhaps make her a little deeper. We might reduce deadrise to get more form stability. Hollow spars, in place of the solid sticks, would help her performance as well.

Years ago, Peter Thornton Trump built one of these schooners out here [British Columbia]. He carried the house aft all the way to the mainmast, thus reducing cockpit size and giving a practical cabin for cruising. I would narrow the cockpit, too, and make it self-draining. That, combined with a light rig and increased ballast, would make her twice the boat. In fact, I'm tempted to pick up a pencil and start doodling right now, remembering all the fun I had with her and the days still burned on my memory.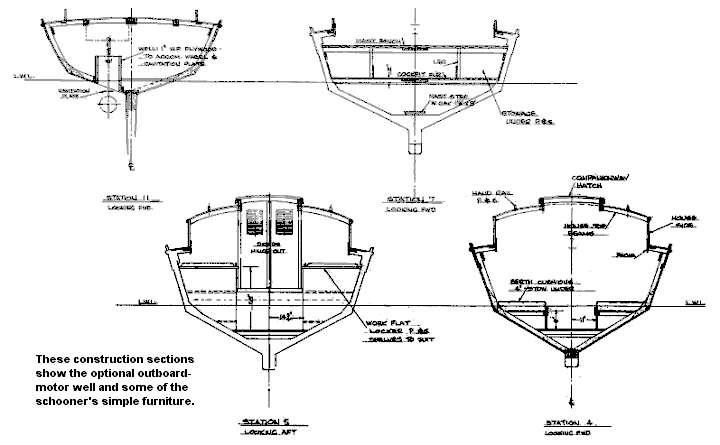 We should say that designer John Atkin seemed well aware of Florence's strengths, weaknesses, and purpose. In Practical Small Boat Designs (International Marine, 1983), he wrote: "She handles nicely, much like a little ship. Not conceived for offshore work, she is entirely capable in waters such as those of Long Island Sound." He noted that, "As of 1982, some 75 of the little schooners had been built...."
If our purposes match the designer's intent, let's build this schooner as drawn. Well, I might suggest raising the cockpit sole just a few inches so that she'll dump rainwater while lying unattended at her mooring. She won't be truly self-bailing, but do you really want to sacrifice all that grand and comfortable space if we're daysailing on more-or-less protected water? (I reserve the right to alter that opinion after we're hit by the summer's first 60-knot thundersquall.) To ease the minds of friends and insurance carriers, we'll secure two stout horse-buckets at easy reach. The most effective bilge pump is, indeed, a large bucket in the hands of a frightened man.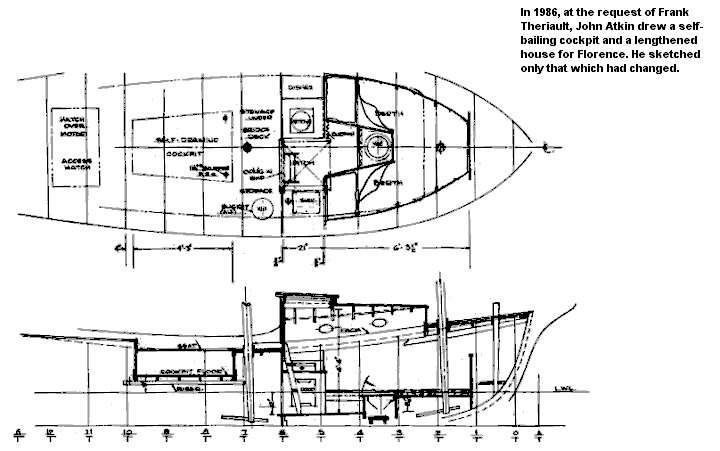 As for the rig, unless you would enjoy strolling to the head of the bowsprit in heavy weather, let's go with a roller-furling staysail. We should follow Paul Gartside's suggestion and employ hollow spars. Making those bird's-mouth sticks, as shown in WoodenBoat No. 149, looks to be good fun.
Florence Oakland is a boat of uncommon grace and charm, yet she is perfectly suited for building in the backyard. Her plans are well drawn and readily available. And shouldn't each of us own at least one schooner before we sail across the bar?
Plans for Florence Oakland are $100