---
In this age of "efficiency," it is encouraging to see the continuing interest in the likes of my little gaff-headed schooner Florence Oakland. There are genuine yachtsmen the world over who maintain great love for "little ships of tradition and worth." One such person, Jacob Hess, of Canton, Ohio, commissioned Florence Oakland.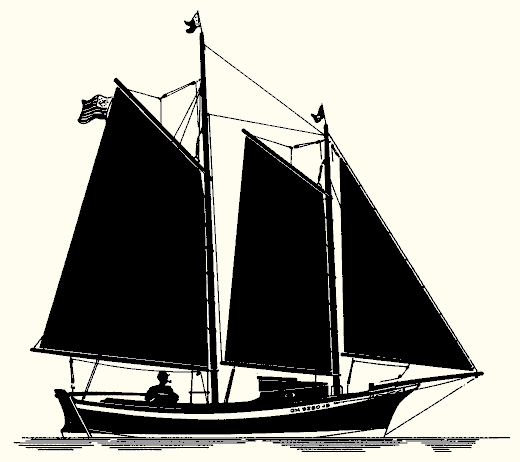 Florence Oakland is a V-bottomed hull 22 feet 5 inches overall by 20 feet on the waterline by 7 feet 8 inches beam by 3 feet of draft. She has a long, fairly shallow lead casting weighing 1,200 pounds for outside ballast and 300 pounds of inside lead, after the manner of proper little cruising boats where comfort is considered before yacht racing rules.

Although Jake and I agreed with the late L. Francis Herreshoff that conventional planking is better, we decided on marine plywood because the little ship was to be trailerborne from time to time, and we wanted her to stay tight. So, her lines were developed accordingly.
Jake Hess provided me with a report on the little boat's performance. He wrote, "Your little jewel has exceeded our requirements and expectations. She has been completely successful. She tacks in about 100 degrees and balances nicely on all points."