Victoria
A Solid 22' Daysailer
by
Mike O'Brien
©Boat Design Quarterly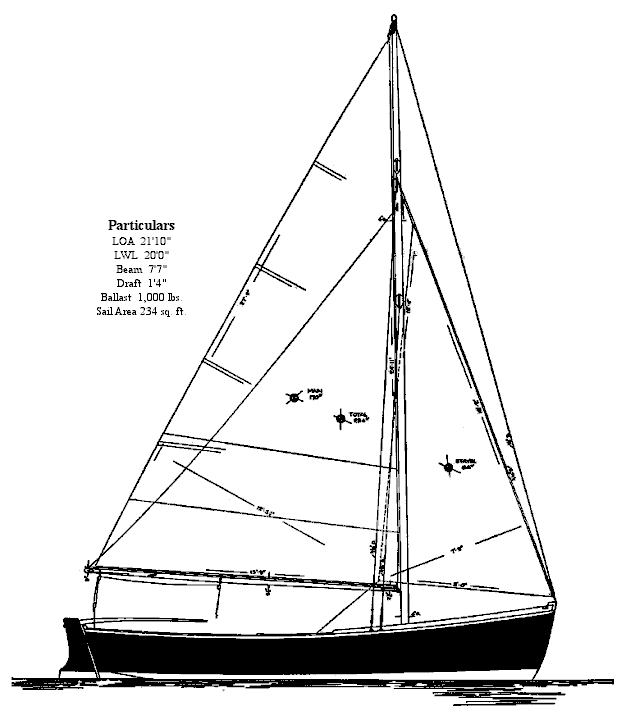 Here we have a robust daysailer from Billy and John Atkin. In the designers' words, she is a "fun boat: a boat in which, with half a dozen friends, one can sail willy-nilly through a summer's day."
When I was a boy, we began our sailing careers in old one-design boats that were too tired for serious competition. Lightnings, Snipes, Comets...all served as adequate daysailers when their racing days were over. They cost little, and their simple rigs tolerated the inexperienced hands of youth. But somewhere during the last half of the 20th century, these rigs grew complex, expensive, and fragile. The boats beneath them became sterile, as fiberglass and vinyl replaced cedar and mahogany. Comfortable slatted benches gave way to glass flotation tanks, which made no concessions to human anatomy. For daysailing today, we'll be better served by Victoria -a boat conceived for that worthwhile purpose.
This was the 781st design to float from the Atkins' drawing tables. As was their habit, the father-son team eschewed the numerical designation in favor of a meaningful name. The sloop honored a young girl, Victoria Drake: "Six years have just caught up with Vicki, the age which many of us would love to re-live and again have a long, fragrant road of years in the offing years of Santa Clauses, Easter bunnies, and singing birds." If all went well, Victoria today likely is enjoying her grandchildren. For this sloop, the Atkins drew a simple hull with plenty of shape in all the right places. The sides are well raked (flared, if you insist), and ample breadth and freeboard produce a boat of large volume. Freeboard up forward is a full 3'2"; the least freeboard is about 2'; and at the stern it measures 2'4". The rails rise several inches above the seats...we'll sit in this boat, not on it.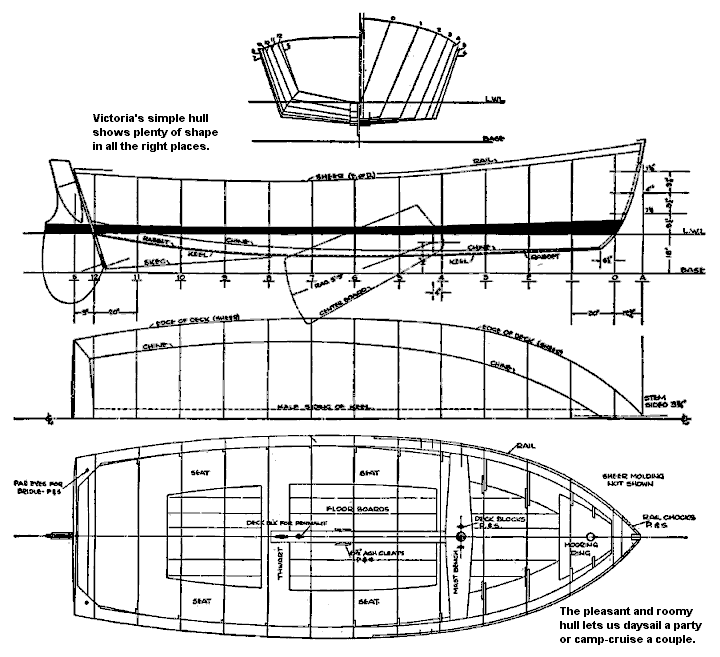 Victoria's volume carries well into the ends of her hull. All else equal, this increases her capacity and stability; and it allows the "half a dozen friends" to move about and not overly upset the boat's trim and demeanor. The slight deadrise (V-Shape) to the hull's bottom let the Atkins clear the run without resorting to speed robbing steep rocker back aft. Generations of Chesapeake bateaux have proven this an effective termination for burdensome, nearly flat-bottomed hulls. Victoria will leave the water smooth behind her. Gazing aft from the helm should prove hypnotically pleasurable.
The Atkins specify batten-seam construction for this simple hull: 7/8" white cedar on white-oak frames. Seams are to be battened with 7/16" x 1 7/8" white oak. Although neither father nor son cared much for plywood, Pat Atkin (John's wife) recently came upon a penciled note in John's hand, which indicated that Victoria's hull would tolerate the sheet material. Any slight differences from a perfectly developable shape won't cause serious problems for builders.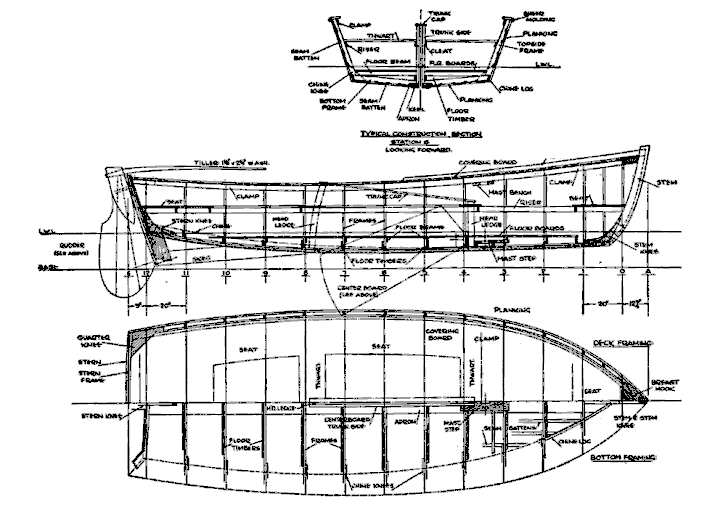 A nicely proportioned fractional sloop rig propels Victoria. The designers tell us to make the hollow mast of Sitka spruce. It seemed of some importance to them that the stick be "circular in section, not rectangular." This might be a good chance to try that bird's-mouth building method we've heard about (WoodenBoat No. 149). In any case, let's not succumb to the temptation of an aluminum pole...noisy aluminum, ugly aluminum.
The Atkins took care that we'll not have to deal with spreaders and other complications, but we will have to find a few turnbuckles and some wire rope.
The 170-sq-ft mainsail shows two sets of reef points. Billy Atkin meant that they should be taken seriously: "Most small sailing boats of this era do not have reef points or nettles. We wonder how the crew manages if and when it comes on to blow? Without the nettles, what suffices and how is sail shortened?" He suggests that we have the sails sewn from 4-oz commercial duck. Now, half a century down the road, he might agree to an off-white synthetic cloth of some sort...lighter, stronger, resistant to the ravages of mildew and neglect, if not to degradation caused by the ultraviolet portion of sunlight.
We might consider altering Victoria's rudder. A "kick-up" pivoting blade would ease our minds and protect the expensive pintles and gudgeons as we sail across the flats. As a young boy, I always carried a spare bronze pintle in my pocket. They cost $1.50 at the local hardware store, and I broke them with regularity against the shallow bottom of Barnegat Bay. In situ repair was simpler than providing explanation to my father.
Given that this boat sails with 1,000 lbs of inside ballast, let's plan to build-in a few watertight compartments...perhaps one below a sunken foredeck, another in the stern sheets, and two more below the side seats. The rot inhibiting nature of epoxy allows us to take liberties that would have been unwise fifty years ago.
Please don't suggest that we add a house atop Victoria's sweet hull. I'm aware that most stock boats of this volume include cabins that "sleep four," but the resulting quarters are cramped and seldom used. If we need protection and privacy for overnight adventures, let's rig shelter from fiberglass poles and synthetic cloth. The light weight and temporary nature of such accommodations allow us to build taller and roomier than we might dare with permanent structure. We can learn from mountaineers.
Plans for Victoria are $100