Leaps & Bounds
Nee: George
by
Bill Stoye
April 26, 2008
© Bill Stoye 2008
Ed says (that's Ed Foster of Tzabbaco Creek Boats), Bill, I'd like to build a skiff, I know you like the type, how about I build one for you? Gee Ed... don't know... been wanting to build one for some time now, if you build it I'll miss out on the experience. Ed: I've been pigeon holing some long scraps of fir we could use for stringers, plus enough old fir laying around for frames and transom... we may need to get planking, epoxy, some glass cloth to sheath the bottom, uses little hardware... Chiming in: I still have a bunch of that Okumme ply Dan (Drath) picked up years ago, we could use it, probably enough left for the majority... materials wouldn't cost much... don't know Ed, let me think about it... the beginnings of another joyful journey I wasn't looking for.
Attempting to read Ed's mind, thinking he's trying to lure me back into the boats as my latest distractions have had me away from TSCA events and friends, away from being on the water and thoughts about a design were to satisfy that. Emails flew back and forth on the World Wide Web, sorting through designs that would satisfy. That Okumme ply was to build a design rattling around in my head since I rowed a particular type at a TSCA/Mystic Seaport event also years ago; it didn't light Ed's fire. A few more designs flew back and forth, one of us came upon George, this lent to an easy agreement; go ahead, build it!
Plans ordered, in a reply email from Pat Atkin: "Am delighted you are to build George. We owned one and just loved her."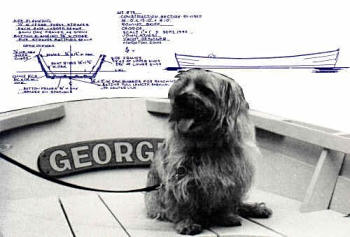 George's namesake, who could resist?
The plans received from Pat Atkin included a note explaining, George was the last of John Atkin's designs and built for themselves; plus a line, "...all plans are well proven if built as designed."
To to Pat's chagrin, we, well, Ed added a centerboard trunk with plans for a sail rig that I wanted. Trying to allay her concern, mentioning, "I'm the one riddled with guilt over the sail plan, that it was my desire for sail after selecting the design that brought it about;" assuring her I would take responsibility, I had a rowboat in mind, Ed, another boat, we had to come to a mutually agreeable boat seeing as Ed was sweetening the pot, supplying most of the materials... I stumbled upon George having considered a couple of other Akin designs. We decided on a design, when plans where in hand, I realized I missed sail, so we did the natural thing for two boat builders, one a designer himself and the other a closet would be designer, plus friends who's consideration I hold in esteem; the change hasn't been taken lightly. I'll take on responsibility if it's a miserable failure and praise John if a glowing example of an Atkin boat.
As the plans were wending their way, some email give and take started between Pat and myself. I, sharing some personal history around the Atkin name, "I'm guilty of putting William and John Atkin on a bit of a boating pedestal, they have entertained me since my subscription to Motor Boating magazine in the early 1950's and sending for Designs For 363 Boats You Can Build in the '60's, it is heavy with Atkin designs and prose. Dreamed my way across a lot of water on their designs."
1975(ish), fell in love with and had an Atkin Valgerda built; used it a few years until attracted by another Water Witch. Designs For 363 Boats... led to a bit of boating snobbery as boating friends and I cruised past marinas naming off Atkin designs, trying our best at one up-man-ship. In the design write ups, William talks of the Highlands hills, the joys of Spermaceti Cove (Sandy Hook, NJ) and the New Jersey mosquitoes, (I love that short passage in his writing, we may have been bitten by the same mosquitoes). Raised in Red Bank, Navesink and Highlands area of the Jersey Shore, put me in these waters that he so aptly describes. An uncle living in Lincroft, New Jersey, talked of a mutual friend, Frank Toop, after which an Atkin design is named, Frank had built a hull for the Atkins. It had become all the more sweeter that we stumbled upon George.
Ask anyone that's had a boat built by Ed, some of the greatest joy in the process is visiting his shop, keeping up on progress and taking in the hospitality and environ. To get there is a qualification of sorts; generally Ed will meet someone new in a coffee shop in town, have them follow him home down dirt Tzabbaco Creek Rd, winding it's way through a forest of Redwoods, Douglas Firs, Oaks, Madrones, Pepperwood trees and probably more, turning into his drive, crossing the creek his boat business is named after, up his torturous mountain goat path of a driveway, which he calmly drags his boats on trailers up and down on a regular basses. That mountain goat path was hewed out across the creek and up the steep wooded hillside by he and his dad. When there, his home environment may as well be Yosemite or Yellowstone National Park for all I know and Ed didn't have the WPA or CCC to help build it.
Inside the shop door, the reward for making it up Ed's driveway. Possibly the most romantic stage of building a boat, frames set up, battens in place showing it's full scale, three dimensional self; fuel for another pipe dream.
An Email from Ed closes; "...and, oh, by the way, Leaps and Bounds is done-ed."
Lines lofted by September 3rd, L's & B's, as Ed came to call her, was ready and picked up December 30th 2006. Generally boats leave Ed's shop completed with a high grade finish, an exception in this effort to get me on the water economically, plus as Ed says, "I've left enough for you to do to give the boat your personal touch." Guilty, I do have some ideas.
One idea, I believe my only special request, which unthinkingly on my part caused Ed some angst, was to have the outer face of the rub rail beveled; this made the rail cantankerous, without a good bearing surface for clamping it to the sheer-plank. He got it done and I suppose will one day forgive me. It does have the subtle effect looked for; a photogenic rub-rail with the sun highlighting the top of the "Atkin's sheer," makes it worthwhile to me, I didn't have to clamp it on!
Dragging the boat home and into the shop, some of the details got attacked right away; then came distractions, time started getting away and I was starting to feel apologetic to Ed and Pat for not being able to put more time in on the boat. However, in spurts, over a year and some months it finally got done. The few details and painting only took four times as long as it took Ed to build her, he, holding down a full time job, re-roofing his front porch, playing his saxophone at his big-band gigs all the while. But I'm retired, so therefore have no time... In my own defense, at no time did I not want to have it done.
Finally; borrowing a trailer from our first born son (Glen), Leaps & Bounds was taken to her launching and first TSCA event, the Petaluma Row, April, 5th, 2008, and Christened by Glenice Dunbar:
Plans in-hand, a name for the boat had never been in question. A few months beforehand, at the end our choirs tour of Europe (Salzburg, Vienna and Prague), three young peers made handwritten awards for each member of the choir, my award being the "Leaps and Bounds" award: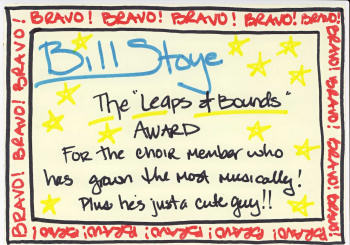 How could I not smile!

Commissioned, in the works with our local prolific name-board artist Jim Lawson, are two stern-quarter name boards, in keeping with the awards flavor. (Jim Lawson photo)
The first step into the boat tells me this is the skiff I had been looking for; there were no surprises the rest of the 6 - 7 mile row that day. The boating spark I was looking for came at the right time and looking forward to more water adventures with fellow TSCA'ers.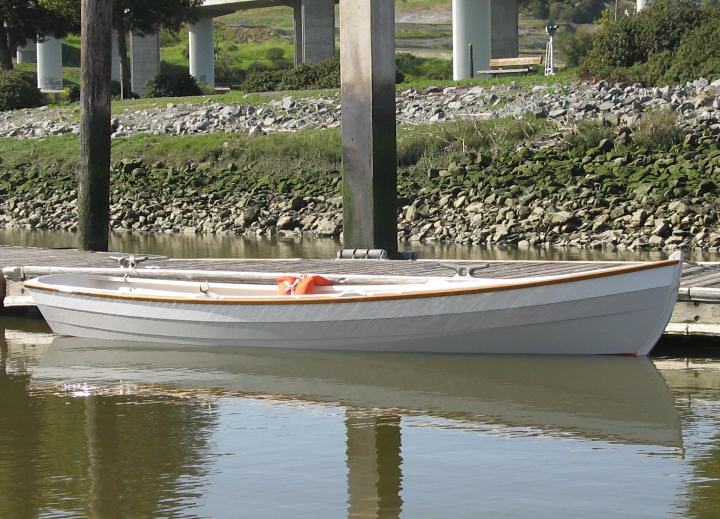 Launched, setting dockside.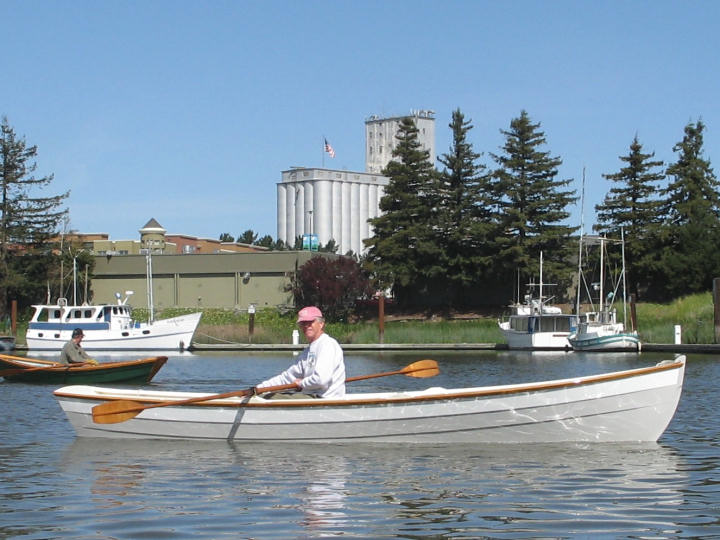 Petaluma turning basin. (Don Bybee photo)
Seemingly, having a penchant for scrambling to get stuff accomplished last minute, particularly for our annual "Gunkhole Cruise" with the SF Maritime Museum, this year is no different. A rudder and sail rig needs to be built, the idea of rowing the week long event had lost it's glow, some time ago.
If getting the boat launched isn't enough reward, Pat Atkin was kind to include photos of Leaps & Bounds in the Atkin & Co. website. To find photos of L's & B's included in something held in esteem and having received so much pleasure from for so long, is icing on a Devil's Food Cake! As friend and fellow east-coast transplant Jim Lawson says, "Wow. What an honor. This is as close to immortality as we are likely to come...." It may be worthwhile to lose yourself in The Atkin & Co. site for awhile... tell them Bill sent you.
The news from Captains Cove;
Bill Stoye