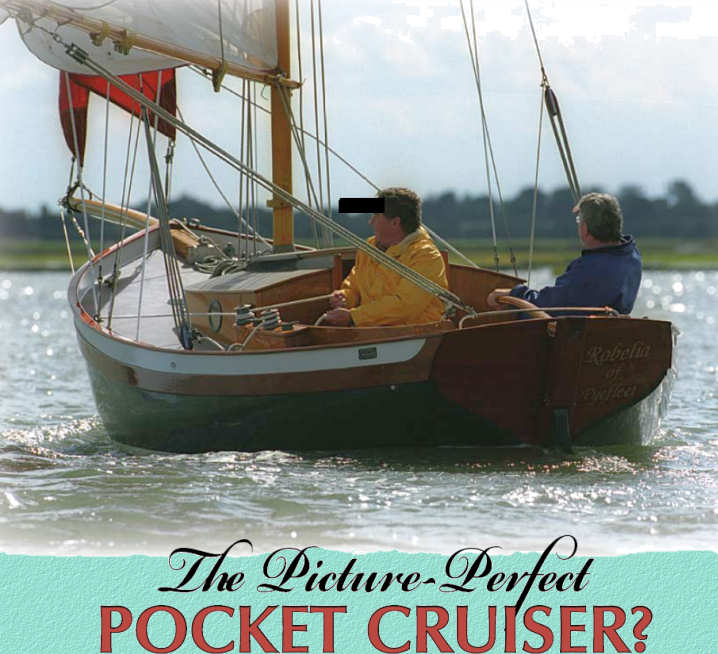 And if she is, why is Robelia the only one of her class in Europe?
Dick Phillips sails the fair Maid of Endor.
by
Dick Phillips
Photographs by
Peter Chesworth

Originally Published in Watercraft Magazine

©Watercraft 2007
I sometimes wonder why people commission new boat designs. Is it something to do with the attraction of owning something new, unique, never before conceived? Or perhaps it's part of the human condition that we are never satisfied, that we will always be in pursuit of perfection of form and performance? Whatever the reasons, it is surely good news for our boat designers who make their livings from providing new sets of lines for their customers.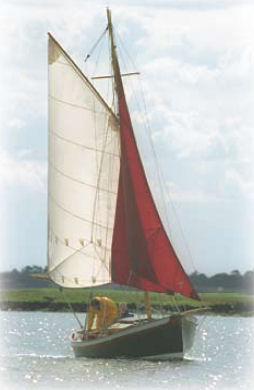 However, when you see the lines of Maid of Endor, you could be forgiven for wondering why anyone would ever attempt to better them in a 20' (6m) pocket cruiser. Of course, beauty is in the eye of the beholder and thankfully, we all view things differently. In the case of this design, however, one would be hard pressed to find any faults. Martin Doe's Maid of Endor, called Robelia after his three children, was built 15 years ago by Euan Seel after Martin had conducted a thorough search for his ideal boat. So pleased are they with her sustained beauty and well mannered performance that they would like to build more like her.
In 1990, the maritime world was in the middle of its great resurgence of all things traditional. Martin shared the interest but though he had seen many boats on the market, and had sailed several, no design cried out to him "Build me!" That is until he met Peter Ward at the old Wooden Boat Show at the National Maritime Museum in Greenwich and discovered the fair Maid of Endor.
Peter Ward makes the most exquisite half-models of all types of handsome boat designs. There, on Peter's stand, Martin saw what he could only describe as a little jewel of a boat. As is familiar to many of us who fall in love with a particular boat, Martin kept returning to Peter's stand to gaze at the half-model and the more he looked, the more he saw to please him. He commissioned a half-model of his own, convinced that Maid of Endor was his ideal design.
From further reading, Martin had discovered that the design was from the board of John Atkin. Often referred to as the son of William "Billy" Atkin, a top US yacht designer, John was an accomplished naval architect in his own right who significantly expanded the body of work in the Atkin practice. He drew Maid of Endor in 1953 for a Mr Harry Meyer who became the first of many to appreciate her near perfect set of curves.
Although a popular design in the USA, as far as Martin could discover none had ever been built on this side of the "pond" so he immediately set about putting right that oversight. Her original design called for a carvel hull to be built on grown frames with a "ceiling" layer inside them. Ceilings were not unusual on larger North American designs in the middle of the 20th century but hardly necessary on a boat of this size 40 years later. Having sounded out opinion from knowledgeable UK wooden boat enthusiasts on the type of construction he should employ, Martin settled for strip planking with cedar and epoxy resin.
Next, he set about finding a builder and after some local enquiries he contacted Euan Seel who had recently set up his yard, quickly building a good reputation for himself. The two resolved that Euan should build her with a 2' x 1/2" (50 x 12mm) cedar strip-plank skin, sheathed with a layer of khaya veneer, all over-laminated with two layers of epoxy impregnated glass cloth. From lofting to being ready to turn over the finished hull took two months, no mean feat for the lone boatbuilder.
The enthusiastic owner had been a regular visitor during the period of hull construction, when his input could be little more than helpful encouragement. But once the hull was right way up, he was thoroughly involved, finding himself required to make decisions on an almost daily basis. Although the designer supplies a G/A, as it's known a General Arrangement drawing it had been laid out for the original customer. Even though Maid of Endor is a relatively diminutive boat with a limit to the possible variations of layout, Martin wanted to ensure that the accommodation suited him.
His main modification to the original design was the omission of the forward hatch to allow for an open, uncluttered foredeck. Similarly the bridge-deck, which would be high due to the inclusion of a self- draining cockpit, was lowered to 12" (0.3m) above sole level, with washboards fitted to the companionway. Other minor additions were the inclusion of a Porta-Potti forward and fitting a chart table to starboard. Apart from these fundamental alterations, Martin and Euan also had to decide upon and maintain a style for the fit out. This aspect should not be underestimated when fitting out a yacht but they have achieved a near perfect style for this type of design and build.
Since her launch in May 1992, Robelia has spent every season on Martin's mooring in Pyefleet Creek, seeing moderate use most years cruising the swatchways and coasts of Essex and Suffolk. For a boat that has seen such regular use, she is remarkably well preserved, looking every inch a new build. This is to a great extent down to Martin's rigorous maintenance schedule but owes a great deal to the solid building techniques applied expertly by Euan. This type of build makes for a very stiff monocoque structure when a multi- layered hull is combined with a plywood deck. Add to this extra stiffeners in way of stress points, such as mast partners, step and shroud plates and the hull does not flex even when being hard pressed.
Since her launching, Martin has carried out various modifications to make her more comfortable for him and to get maximum enjoyment from her. He has lowered the level of the cockpit seating and sole to give a feeling of more security; of being in the boat rather than on it. Although this does away with its self-draining capability, Martin feels that it is a luxury seldom achieved on boats of her size while retaining a comfortable cockpit layout. With the sitting height lowered, the bridge deck had to be reinstated and under it, a Yanmar GM10 diesel has been fitted to replace the original Vire inboard engine. A new sliding hatch has been fitted on the coachroof to match the laid teak cockpit seats.
A not-uncommon complaint about some boat designs which migrate across the Atlantic Ocean is that they are over canvassed for UK waters. This may be due to the higher proportion of lighter winds off the Eastern Seaboard or yes, it may just be that Americans are more inclined to hang off the side of the boat than we are. Initially, Martin found Robelia too heavy on the helm in any sort of wind.
After some calculation and discussion with his sailmaker, it was decided to reduce the mainsail area by removing the lower section as far as the first set of reefing points. In addition. the well-raked mast with which she was designed was altered to be virtually vertical, so moving the centre of effort further forward still. She has certainly not lost any speed through reducing the area of the main, probably because the pull of the extra sail was canceled out by the drag created by her weather helm.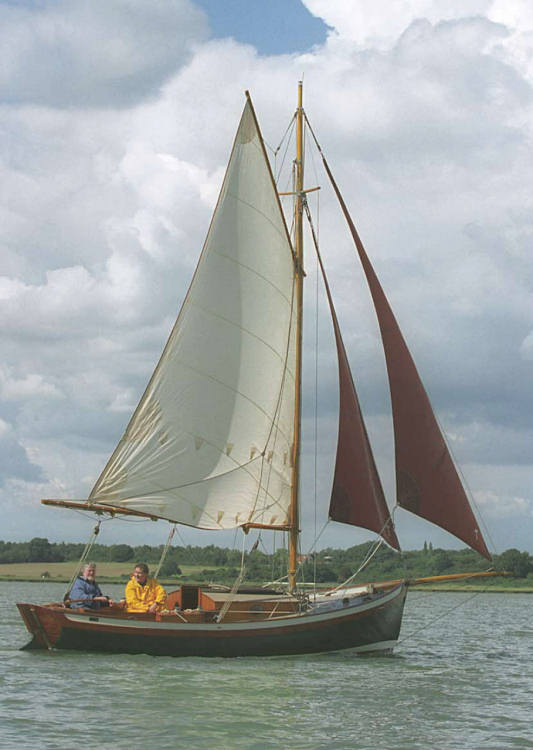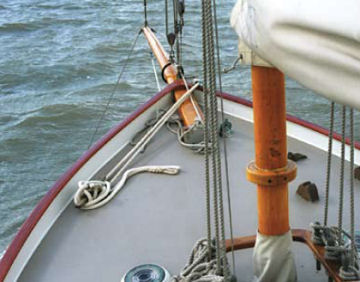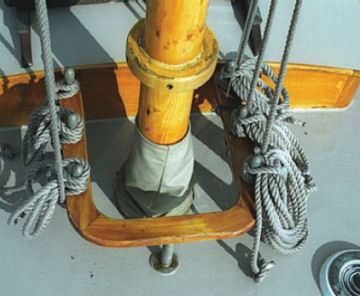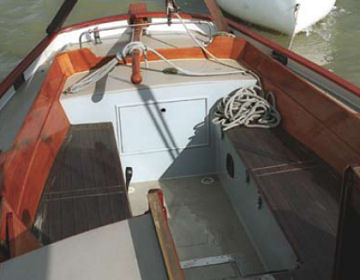 Certainly, when I went out with Martin in a fresh and squally westerly breeze on her home waters, she behaved herself impeccably. For the first part of the day, Martin motored her around the Colne River acting as chase boat for Peter Chesworth to take photographs of Roy Loram's lugger Sue under sail-see Watercraft #60. As a stable platform from which to take photographs, she performed extremely well, even at some speed. But as with all boats designed to sail, she came into her own when her canvas was raised.
On all points of sail she is a pleasure to handle. Beating up river on the rising tide, she pointed extremely well for a gaffer, closing up a few degrees as the gusts passed through. When close hauled, she seems to heel to an angle of 12-15' and hold steady at that, gently heeling a degree or two either way as the wind strength varies. While this is happening you get the merest hint of weather helm to remind you to hold your concentration. Her stiffness is undoubtedly due to her mid-section, designed by John Atkin with a near perfect combination of deadrise, depth and beam.
The cutter rig works well close hauled and you certainly appreciate the extra sail area with the wind on the beam, making for an exhilarating sail. Unlike many gaffers, Maid of Endor does not push what seems like several tons of water ahead of her; Atkin's easy bow sections and cut away bow see to it that she rides most of the bow wave. A cutter rig with running backstays seems like a daunting prospect but I could see that Martin quickly and methodically handled the rig when going about. He reassured me that with a little practice he can tack as quickly single handed as he can with his regular crew.
Martin and Euan have been so smitten with Maid of Endor's beauty and impressive performance over the years, they are considering offering her as a moulded GRP hull with internal ballast and a moulded deck and cockpit. To retain the classic appearance, the new Maid of Endor will be completed with a wooden transom, coachroof, toe rails and trim. Martin feels that a hull of such purity of design would be a complex challenge to amateur builders but should not be denied to other potential owners; I agree with him wholeheartedly.
Martin was told that John Atkin had seen some colour photographs of Robelia and said that she was the sweetest looking Maid of Endor he had seen. I suspect that this is down to Martin's sensitive use of colour to match the character of the boat: the combination of dark green and pale grey, contrasting with the sparkling red-brown of the brightwork and the weathered teak seats and deck is in perfect harmony with the flowing lines laid down by John Atkin over 50 years ago.
CONTACTS
Martin Doe, The Cottage, Straight Road, Boxted, Colchester
CO4 5HJ Tel: +44 (0)1206 272000
martindoe@hotmail.co.uk

Peter Ward Half Models, 31 St Mary's Road, Poole BH15 2LH
Tel/fax: +44 (0)1202 672823
Plans for Maid of Endor are $120