---
A Tabloid Cruising Sloop
There is no Atkin prose to go with this little cruiser, so here are some magazine reviews of the design. Maid of Endor is 20 feet 3 1/2 inches in overall length -- 18 feet 6 inches on the waterline -- with a 7 foot 8 inch beam, a 3 foot 4 inch draft and 335 square feet of sail area. She carries 1,100 lb. of ballast in her keel, and 400 lb. inside.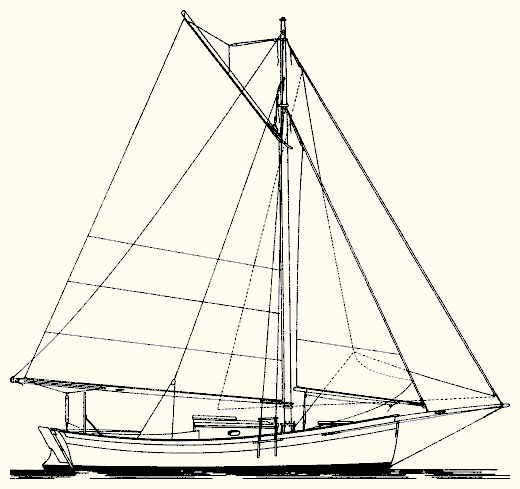 "It is rare these days to see a truly classic design -- one which is virtually unchangeable, as timeless as the reasons we go to sea. This is such a boat. One can gaze at her for hours and find nothing out of place. Every line is in perfect harmony with all the others. To change an inch of her would be to offend that harmony; all this must have something to do with the very definition of a true classic.
"Maid of Endor would be neither inexpensive nor quick and simple to build. She has practically every structural member that a boat three times her size would have, and except for their smaller size they would be about as difficult to construct.
"In one sense, however, she is an unbelievable bargain, for this is a real ship, and you won't find a ship for less money. She'd be tough as nails, easy to handle, and a joy to behold forever. She'd also be a good investment, for unlike most 'character boats', her appeal would be universal. There is no trace of the throwback or freak In her.
"Although complex, she has great appeal as a building project because she is not large. If one botched the biggest timber in her, it could go to the shop stove without too much regret.
"Her accommodations are serviceable and well laid-out, but they have been kept modest, so that.they do not overpower the overall appearance, feel, and function of the boat.
"Maid of Endor would be safe, able, and great fun for one or two people who know the way of a ship. What else is there?" (Wooden Boat, May/June, 1978)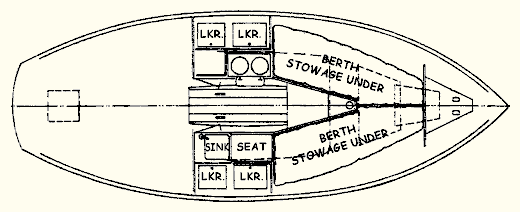 "Quite often the term, 'character boat' is used to describe any gaff rigger with an esprit. The implication is that if you want good performance you buy a 'modern' boat and if you want character you buy something that looks 'old fashioned.' You can even give your packet more character by clapping on some phony baggywrinkle and painting on gunports. After all, this kind of character can be bought at the hardware store and then stuck onto the boat.
"We are therefore pleased to observe that Maid of Endor is no character boat. She is nothing more or less than a beautiful and excellent boat designed for cruising. The gaff, as we seem always to be saying, is the berries off the wind. Deadeyes and lanyards are more reliable than turnbuckles and, after the stretch is out, retain their tension just as well. The strong sheer puts the freeboard just where it is needed for a dry, comfortable deck. The double head rig splits the sail area for easy handling. Fullness of the hull gives great reserve buoyancy (little overhang is needed) and provides surprisingly great accommodations room below. Her long waterline and straight keel should make an easy sail of it for the helmsman." (Rudder, April, 1966)
"Over a period of many years. John Atkin and his late father, William Atkin, have designed probably more one-of-a-kind boats than any other pair of naval architects. Even now, and despite the many poured plastic creations, there is good interest in small cruising sailboats having some degree of individual character. This type of custom designing is John Atkin's specialty, and he is encouraged that many of his clients are young men who express a strong desire to maintain individuality.
"It is refreshing to review the plans of Maid of Endor with her pleasing sheer, gaff rig, graceful bowsprit, and outboard rudder. She boasts but two berths; to me, this is better than four in a boat of this length. Her trunk cabin is designed more with the thought of not cluttering up space on the main deck, than to provide maximum volume below decks.
"Maid of Endor is of conventional wood construction. Such a boat in the hands of an appreciative owner is hard to beat, romantically speaking." (Robert G. Henry, Jr., The Skipper, March, 1966)