How I Got Hooked
by
Richard Alan Smith
Originally Published in Messing About in Boats Magazine
©R. A. Smith 2005
"I'll take it!" I hollered out the car window, forcing a grin. As I turned into the driveway, the owner stood gaping at the Moth streaming flapping sheets of canvas, wood splinters and odd lengths of rigging wire from the car-top rack.
The ad in the Detroit News read, "International Moth sailboat. Excellent condition. $150.00." It was a fine Sunday afternoon and we went out to take a look, my wife, two-year-old daughter and I. It was a beauty - all glossy blue and varnish with red, hard racing bottom paint. We walked around several times and finally I asked if we could take it out to Silver Lake for a trial sail.
"Well. I guess so, said the owner, "but she's a little tender so watch her pretty close. Don't let her get away from you."
So off we went, happy, innocent. It was a fine sunny afternoon - perfect for a sail. The eleven-foot scow looked like a little speedster all right but I was ready, having owned a Snipe for a year or two. Never capsized - not once. I couldn't wait to launch her.
We lifted her into the shallows carefully and rigged her. The little Moth skipped across the waves like the over canvased potato chip she was and over we went. Several powerboats sped up to us and one particularly Good Samaritan bent on a towline and succeeded in separating the mast, rigging and foredeck from the hull, or what was left of it. Somehow we made it to shore and lashed it to the roof of the Plymouth.
We would call the boat How Come? our two-year-old daughter's repeated response to the afternoon's carnage. Reconstruction would be my first experience at boat building. As I recall, the contrast between the stress of sailing and wrecking and buying a boat we couldn't afford and the satisfaction of turning a worthless mass of wood and canvas into a whole boat again was marked.
A few years later we left Michigan and moved to the West Coast. A boat builder in Eugene, Oregon had a 16-foot knockabout in the yard. It needed paint but was otherwise in good condition. It was a Japanese Tombow (Dragonfly) class boat with more deadrise in the bows and less sheer than a Snipe but otherwise quite similar.
I learned to sail in the Tombow and also learned that a family of four could have a very short shelf life on such a boat. My wife was bored with "going back and forth; back and forth" crisscrossing the reservoir to no apparent purpose. She'd look at a winch quizzically. I'd explain what it was and demonstrate by trimming in the jib. Feigning interest, she could only say, "What a clever husband you are" and turned to separate our quarreling children.
Son and daughter entered into the spirit of things, sporting dragonfly emblazoned terry cloth capes their mother made for them, but once aboard engaged in more or less steady wrangling and scrapping. There was more to sailing happily than just sailing and I had a lot to learn.
Sailing seemed to fail as a way of uniting the family and except for reading a few books on the subject Slocum, Chichester, the Hiscocks and a few others, I began to lose interest in boats. I was having a difficult enough time trying to be a good husband and father without subjecting my loved ones to the alternating bouts of the tension and boredom that our afternoons afloat had become.
Wandering aimlessly one day in a local bookshop, I found a copy of Modern Motor Boat Plans and Designs - Volume VIII of Motor Boating's Ideal Series. That book changed everything - or rather one of the designs on page 96, "Red Onion, An Eighteen-Foot Sharpie" did.
As I studied the profile of the boat, its sail plan and accommodations, it was as if this boat was designed for me. I studied the construction drawings and felt that I could build this boat. I read the short article the designer, William Atkin, wrote to accompany the drawings and I felt my enthusiasm surge:
...She did not look just right... A little off here and there, and a lot cock-eyed along her sheer. In the water she looked even worse than on the land. Her owner christened her Red Onion. Asked why, he replied, "Every time I look at her, she brings tears to my eyes...The old Red Onion might have been better looking had some one bothered a little in the preparation of plans, or at least made a half model from which to build her. Her name always interested me; honest, plain, and forthright, just the thing for a useful little hooker made for use and not for style. Just right for the latest of our fleet. So herewith, Shipmates, another Red Onion!
But there were many volumes in the Ideal Series, each containing scores of small boat designs, mostly by William Atkin. Several appealed to me but I couldn't decide which one to build, so I contacted the designer's son, John Atkin, asking if he might help me find the best boat.
November 15, 1966
Dear Mr. Smith:
Thank you for your letter... My good wife will be taking care of your book order in the very near future. Enclosed are photo-copies of three little boats which may come reasonably close to your requirements... Flat bottom boats have a lot to be said for them in simplicity of building, etc. I've always been partial to a well-designed flat bottom hull in all respects... prints of Nos. 1 and 2 are $25.00, those of the open sloop are $20.00 - this figure includes any professional advice required while the boat is under construction...
Your,
John Atkin
William Atkin had drawn another little boat, Wild Oats, which was similar to Red Onion in all respects except that she had a V bottom and a Marconi rig rather than Red Onion's gaff. I was trying to choose between the two when John wrote,
The V bottom boat, quite obviously, is more of a refinement and possibly therefore a bit -better' in many respects. There is a place for bilge water to lay in a V bottom hull - a flat bottom boat lacks this advantage... a flat bottom hull is subject to a stronger helm - all things equal - from my observations. Tho I'm not entirely certain about this.
I decided to put the simpler Marconi rig of Wild Oats on the flat bottom Red Onion and name her Minka after the Japanese folk houses I had studied for years. (Years later, John included Minka in his book Practical Small Boat Designs, calling her Wild Onion which amused him.)
John Atkin gave me all kinds of practical advice from choosing the best wood and fasteners to rigging details and sailing but it was his sincerity and personal encouragement that influenced and inspired me well beyond the immediate problems of building a boat. Because of this thoughtful attention to my concerns, I become well and truly hooked on boats.
November 20, 1967
Dear Mr. Smith;
It was nice to have your letter and to learn "Red Onion" is coming along and that you are having a nice time with the project. This is really all that matters.
And later...
Let me say your "Minka" is certainly a credit to us and I hope to all concerned. She looks just wonderful. It is naturally encouraging to know the little boat has worked out well and behaves herself. I feel the most rewarding aspect of yacht designing is in developing the work initially and then having nice letters from folks like you who have found a degree of relaxation and enjoyment in building and using the boat...
Your,
John Atkin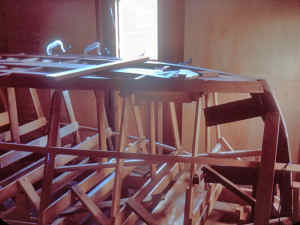 Framed
The children, now 11 and 14 found more of interest in the below-deck arrangements in Minka having their own berth and fishing pole or clam bucket and the generally more "shippy" feel of the "little hooker" as Billy Atkin referred to her. Sailing with either my son or my daughter (but not both) made for a happy ship and I also sailed with others, but I found that invariably, with three or more aboard, the talk moved all too easily to things other than boats and seemed to detract from the uniqueness of the occasion. Increasingly, I enjoyed sailing single-handed, exploring the myriad gunkholes of Puget Sound and the archipelagos to the North.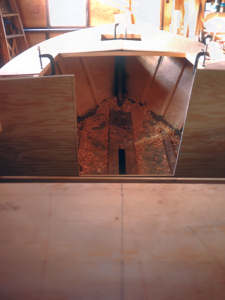 Decked
I remember reaching under the Tacoma Narrows Bridge on a windy afternoon when inattention on my part allowed a tide rip to grab us, producing an accidental jibe. The main sheet went slack and lassoed the pesky little Seagull outboard which held it fast. As the boat went over and over I thought of the largest octopi in Puget Sound about 30 fathoms below us, swimming with arms longer than Minka and waiting in the wreckage of the first Narrows Bridge. I also recalled John's warning,
As you've written, she is a compromise. I can envision her taking a knock down and scaring the hell-out-of you! But I suspect "something" would let go before she capsized. Don't misunderstand - she could capsize if sheets weren't eased off.
Minka lay down on her side but nothing "let go," and with some sort of reserve strength that I have yet to re-discover, I pulled the bar tight mainsheet up and over the engine and we came up to continue our 10 knot rampaging sleigh-ride through that turbulent narrows.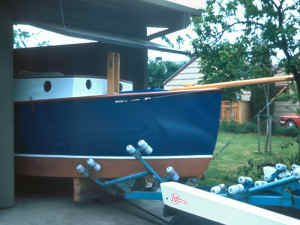 Caption
Minka Emerges from the shop I cannot say that I ever entirely escaped the fear that could turn my spine to jelly when that little skiff carrying two deep reefs in the main and her handkerchief jib was laid hard over by a 25 kt. gust. Perhaps the legacy of sailing a center boarder beyond reasonable limits left me with an affinity for the secluded bays and estuaries where I could take the ground. There was always a special quality of deservedness to wake up with Minka upright on a sandy bottom amongst the crows and Glaucous-winged Gulls, the Red Rock Crabs and spouting bivalves to remember the wind and waves of the day before.
Onto the trailer
Minka and the Atkins taught me just how simple cruising can be and it's a lesson I always try to remember as the forces of complication find their ways into our boats. The small jib didn't require winches. I had no depth sounder but did very well with a homemade lead line. I even fashioned a line with knots positioned so that I could determine speed. I made a wooden seat for the galvanized bucket, getting the plans from a wonderful book on the joys of sailing, The Compleat Cruiser by L. Francis Herreshoff. (Come to think of it, everything I've learned about sailing and the love of it came from such books.) I'd tack up the shallow waterway between Whidbey Island and the tidal flats of Skagit Bay on the way to Deception Pass approaching each shore until the centerboard just nudged and I'd come about. That was great fun.
Wherever I anchor my deep draft sailboat now, I look longingly at where I would have put Minka way in there, perhaps up a shallow tidal river where She'd take the ground and I'd have to rig mosquito netting in the evening after steaming Littlenecks on the beach in the shadows of her whisker stays.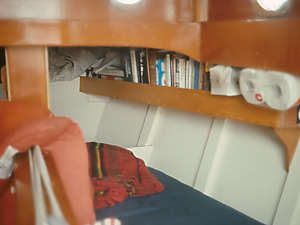 In the cabin
That cabin was snug as could be with a berth on either side of the big centerboard trunk. We sat up to eat at the hinged table that let down from the sides of the trunk. Aft of the berths there was a kerosene cook stove to port that held an upside-down flowerpot on cold mornings. There was an upholstered seat to starboard headroom enough for a comfortable sit-down. The cockpit was deep but not self-bailing and there was plenty of room for fishing poles and crab traps under the seats.
Minka was a pleasure to look at from any angle, a tribute to William Atkin's way with a small boat. The sheer struck a most excellent compromise between beauty and the exigencies of accommodation and the handy little bowsprit made her feel like a real little ship.
The 4" deadlights were as large as necessary for peering out and small enough to discourage peeking Toms. The subdued light they provided made for a welcome change from the bright sun in the cockpit and their small size made the diminutive cruiser look larger than she really was while contributing to the strength of the cabin sides.
The more I cruised that boat, the more I came to appreciate the careful thought that went into her design and idealized use. I've had many boats since Minka, all larger, certainly faster, perhaps safer, always more lavishly appointed and far more costly. But none had the "magic to stir men's minds" that the Red Onion had. None would have hooked me as surely and completely as Minka and her architects did. In one of my last letters from John Atkin, he wrote,
I have your photos of "Minka" on my office wall and appreciate your sending this along. Let me hear from you anytime. And thank you for your continued interest in our designs. I hope you can see your way clear to get "Great Bear" under construction and want to lend all possible assistance.
I never built Great Bear and that will remain one of life's few regrets. I have a plank on frame model of Twilight, a sister ship, hanging in my living room. It reminds me daily of that wonderful association with two great yacht designers without whom, life would be incomplete.