---
An Atkin Double-Ender
No how-to-build article on Vixen was ever published, so you will have to be satisfied with the blurbs from the yachting press below. Vixen measures 34 ft. 7 in. on deck, with a length of 32 ft. 6 in. on the waterline. Her beam is 10 ft. and draft 5 ft. Freeboard forward is 4 ft. 10 1/2 in., 3 ft. 11 in. at the stern and the least freeboard is 2 ft. 11 in. She displaces about 26,000 lb., with a 9,500 lb. external lead keel and 1,500 lb. of inside ballast. She was designed for Jim Stark, specifically to make a circumnavigation. He had a suc­cessful trip taking five years, as he liked South Africa and Tahiti so much he stayed there several months each. Vixen has been sailing the world with Bruce Halabisky and his family since 2004.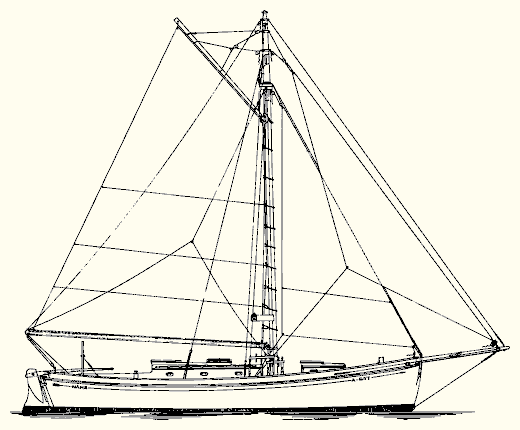 "Like so many boats from the Atkin board, Vixen, designed for a world cruise, is short ended with a pleasing sheer line, full ends, good deck room, an outboard rudder and a modest gaff rig. Her designers, as usual, have worked a surprising amount of accommodations into a boat of her overall length, a feature made possible by her long waterline. A casual inspection shows that she has cabin space comparable to that of a much larger boat. Note the very large head, with booby hatch over, in the forepeak, big hanging locker and four-foot chart table, wide cabin sole and the lockers outboard of the two berths in the main cabin. Her galley, aft, is almost five feet long and the width of the ship, giving lots of room for the cook. The 50 hp. Universal Super Four, tucked away beneath the cockpit, is readily accessible for servicing. Her copper gas tanks are under seats in the cockpit so any overflow will drain overboard, a good safety feature. The lazarette will hold a lot of gear."

"The double-ended sloop Vixen was designed by Atkin and Co. for James T. Stark, whose address at this writing is Yacht Vixen, about 1,200 miles west of Balboa, C. Z. Vixen is outward bound on an extended cruise.
"The boat was built and launched at Joel Johnson's yard in Black Rock, Conn., two years ago, and excepting for periodic haul-outs, has been afloat since her christening day. For the better part of two years she has cruised the Spanish Main, a proper shakedown for a voyage throughout the Seven Seas.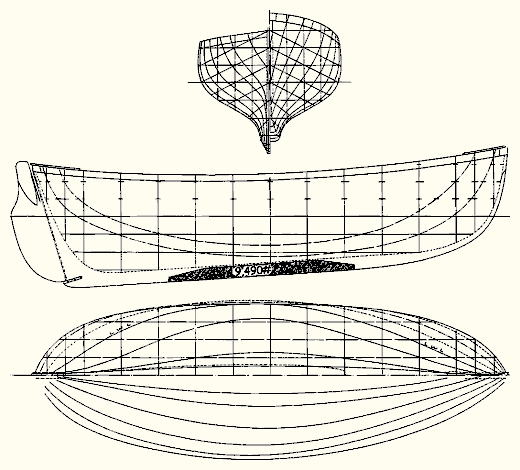 "Her total sail area is 585 square feet. She has double headstays and running rigging for twin staysails. The owner and designers feel this rig is the most practical for wholesome cruising yachts. Vixen carries 9,500 pounds of lead in her keel and 1,500 pounds of inside ballast.
"The drawings show clearly the cabin arrangement. Headroom throughout the cabin is six feet. For auxiliary power she has a four cylinder Universal Super Four motor of 149.3 cubic inches cylinder displacement developing 50 horsepower turning at 3,000 revolutions per minute. This motor provides a speed close to 8 miles an hour."